Gorgeous, Multi-Functional Marble and Wood Cake Stand from Stone Essential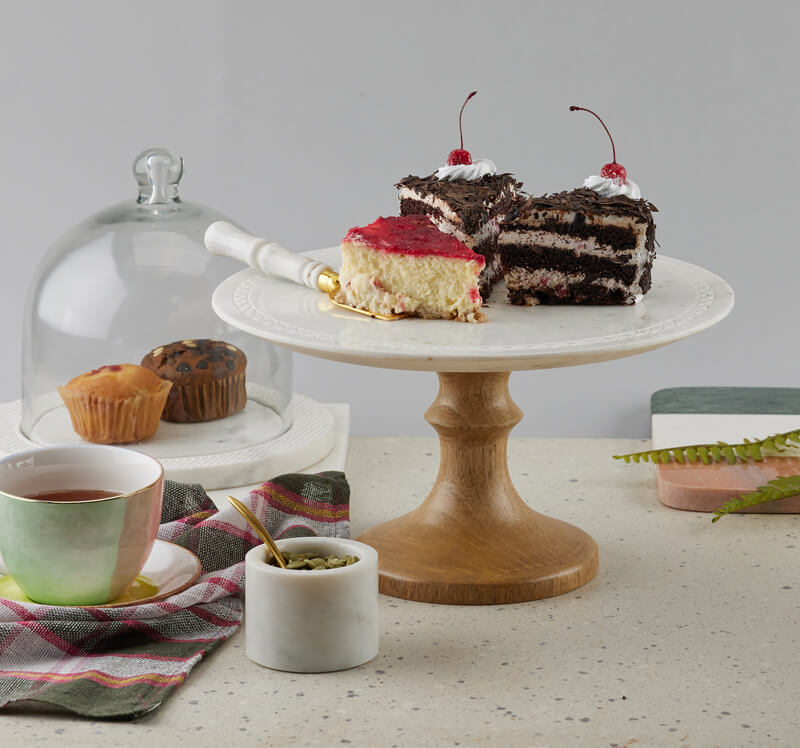 "Your home should tell the story of who you are, and be a collection of what you love," – Nate Berkus.
Stands. Platters. Holders. Pedestals. Plates. No matter what you call them, a delicious cake deserves an even more amazing cake stand!
From having cakes at weddings to cutting them at birthdays parties, from engagement festivities to rejoicing at graduation ceremonies, cakes today are an essential part of any celebration. And, why not? They are not just delectable and wonderful, they simply define happiness.
 But, bakers are not just satisfied with baking lip-smacking cakes, there is something that, in fact, steals the show for them, how they present their masterpieces.
 In the era of Facebook, Instagram and Pinterest, cakes need to look as appealing as they taste. Thankfully, we have the right kind of marble and wood cake stand for the deed!
A cake stand is a statement-making home essential. Marble cake stand or marble cake plate are those unsung heroes that give cakes a grand presentation. These are of many types and designs and work effectively to flaunt the shape, texture and style of a cake. On that note, today we are going to give attention to these cake stands for a change. 
So, let's start with a 101 on a cake stand! 
 But, First Things First, Why Are Cake Stand Necessary? 
 When you have worked hard to create a gorgeous cake, you undoubtedly would like to make it look good, right? This is where the cake stand can help you out. A cake stand is classy, stylish and hence, compliment your cake best. 
 What's more? If you are a food blogger who loves to click images of desserts against beautiful backdrops, your cake stand can help you out. For example, you can place the cake stand against an artistic backdrop and click some images worthy of Instagram.
 Now, let's move on…
 Trendsetting Marble Cake Stand With Wood Base From Stone Essential
Stone Essential is a luxury home decor brand that provides solutions with a selective array of home decor items. Offering a range of fitments for your space, they are a one-stop solution to all your home decor needs and desires. Stone Essential is proud that a lot of their pieces are designed and crafted by Indian artisans and their eye for detail and creativity helps them reinterpret a plethora of fitments for homes with aesthetically pleasing designs. Stone Essential represents an amalgamation of opulence while being simple.
With Stone Essential's wide range of marble and wood cake stand options, give a perfect place for your happiest desserts and cakes. Explore their curated collection of the cake stand, as you feel excited to serve your favourite cakes to your loved ones.
Be it the Round Marble and Wood Cake Stand, Octagon Marble and Wood Cake Stand, AVA cake stand, Gloria Cake Stand or the CLARA cake stand, each piece is uniquely handcrafted, simple, sophisticated and perfect for upcoming gatherings. 
What Makes The Perfect Cake Stand?
The perfect cake stand should…
Have no lip on the edge
Be about 3 inches tall
Be white or made of glass or marble cake stand
Be completely flat, not bowing in at the centre
How To Take Care Of Your Gorgeous Cake Stand?
Dust your cake stand with a slightly damp, soft, lint-free cloth. 
Apply a good quality furniture polish twice a year on your cake stand to maintain the finish of the wood section.
Do not use abrasive, acid, alcohol-based or solvent-based cleaners; they may fade the finish of the cake stand.
Do not use oil-based polishes or abrasives or polishes containing waxes.
Final Thoughts On Marble And Wood Cake Stand
Display your sweet delicacies in an artistic manner on marble and wood cake stand from the house of Stone Essential. Serve your savouries in style and entertain your guests with Stone Essential cake stand and complement your kitchen tops.