Gorgeous Marble And Wood Coasters From Stone Essential To Add Life To Your Tables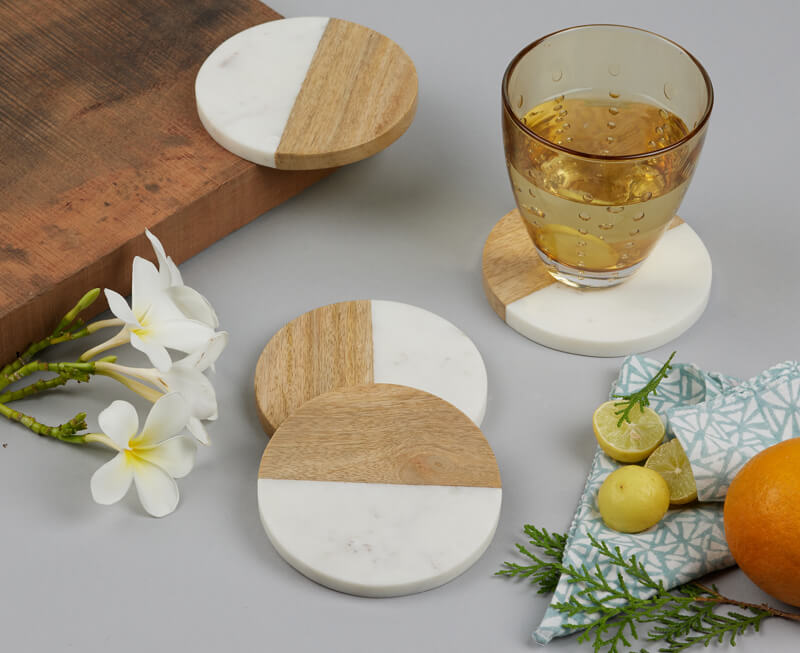 Transform your home with a set of spectacular, functional and decorative marble coasters. Elegant and sophisticated, white marble coasters or black marble coasters from Stone Essential will instantly elevate your home decor with their contemporary style. From hexagonal marble and gold coasters to marble coaster with brass edges, from marble coaster set with holder to octagonal marble drink coasters, you're sure to find a beautiful set of coasters at Stone Essential. In turn, you will never have to worry about watermarks again. If you're looking to add a pop of colour to your home, take a look at these beautiful marble and wood coasters from Stone Essential. Your guests will surely be impressed.
Why Do You Need Marble And Wood Coasters?
Not only do marble drink coasters and functional and decorative marble coasters protect your tables from water rings, but certain cups or glasses may also leave small scratches or nicks on the table. This is especially true if you're moving your drink around a lot.
With all that in mind, it only makes sense to lay down marble and wood coasters before you set down your drink. You'll keep the furniture free from blemishes and get fun home décor at the same time!
How Did The Coaster Come To Be?
Did you know the first coasters were designed for decanters or wine bottles so they could be slid or "coasted" around the dinner table after the servants had retired?
A German printing company, Friedrich Horn created the first coasters around 1880. They were made of cardboard, and it wasn't long after that Robert Sputh patented his wood pulp mat. Shortly after, the printers would imprint their mats, and the monumental idea quickly spread to brewery marketers and distilleries.
What Are The Best Coasters?
Natural white marble and wood round coaster – Stone Essential's premium natural white marble and wood round coaster protect your beautiful kitchen surfaces, dining tables and bar counters from drink ring stains. Our marble and wood coasters are handmade and include a liner that protects your table surfaces from scratches & spills. Our marble and wood coasters are crafted heavy to prevent sticking to cups, tumblers & glasses.
Octagon black and brass coaster set - Handcrafted octagon black and brass coaster set from Stone Essential have a wonderful texture and are ideal for resting your drinkware. They can be an excellent addition to your tableware and are perfect as a coaster as they are a bit heavy.
Marble coaster with brass edges - The simple, yet chic marble coaster is elevated to an entirely new level with the gold accent. These coasters are the perfect addition to any home and will look great with outdoor or indoor decor.
Marble and wood coasters - Searching for a set of unique functional and decorative marble coasters, these fabulous marble and wood coasters from Stone Essential feature a quirky and fun combination of marble and wood.
Worry no longer for your beautiful wooden tables or marble countertops—coasters are here to save the day! Whether you are moving into a new living space or looking to refresh your dining table accessories, you're going to love these current favourite coasters.